Desert landscapes reminiscent of a Hollywood movie, mystical world heritage sites, a bathing experience like no other, and Oriental destinations full of surprises – Jordan is a top-notch travel destination. The great news is that the country is appealing to tourists year-round, with T-shirt weather even in the winter months, when the highlights are not as crowded. Here are eight attractions that are worth more than just a moment's visit.
Vibrant Metropolis – Shopping and More in Amman
Welcome to perhaps the most relaxed yet simultaneously exciting metropolis in this region! Jordan's capital, Amman, with its 4 million inhabitants, captivates with its diversity, offering a unique blend of tradition and modernity. From the citadel perched high above the city with its impressive Roman relics, the view stretches far across the sea of houses that sprawl across more than 20 hills in the fertile Jordan Valley. Cutting-edge architecture coexists with charming, rustic artisan shops, while cultural highlights like the Jordanian National and Archaeology Museum beckon alongside magnificent mosques. Travelers will find themselves in constant awe.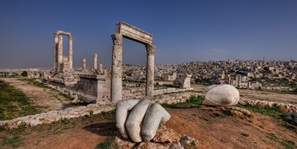 Furthermore, Amman is a shopping paradise, where tourists can shop like nowhere else in Jordan. In addition to the many shops in large malls, a leisurely stroll along the numerous small shops and artist studios, such as those on Rainbow Street, is highly recommended. From April to October, bargain hunters can find unique souvenirs and crafts at the Jara Flea Market in Jabal Amman on Fridays. In the evenings, people gather in bohemian cafes and chic galleries, and in the clubs of the Abdoun district, live bands take the stage into the late hours.
The Desert Comes Alive – Adventure in Wadi Rum
The off-road vehicle rumbles along well-worn sandy tracks, leaving a long trail of dust behind it. At the wheel is a cinematic Bedouin, wearing sunglasses and a headscarf, with adventurous travelers seated on the open cargo bed benches. Bizarrely shaped sandstone rocks pass by on both sides, and the hot air shimmers on the horizon. The approximately 100 kilometers long and 60 kilometers wide dry valley of Wadi Rum in southern Jordan is widely renowned, having served as the backdrop for the 1962 blockbuster "Lawrence of Arabia" starring Peter O'Toole and Omar Sharif. It is also a UNESCO World Heritage site. If you're vacationing in this region, a visit to the striking monolithic landscape is an absolute must.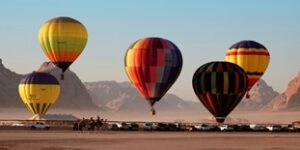 One of the most impressive experiences is spending the night in a desert camp (be cautious; it can get very cold at night). During the darkness, the profound silence and the celestial spectacle of stars are simply overwhelming. An unforgettable adventure is also a hot air balloon ride over Wadi Rum – one-hour flights are offered from the local visitor center between March and October. From an altitude of around 600 meters, travelers can enjoy breathtaking views of the "Valley of the Moon" – don't forget your binoculars!
Mansaf, Baba Ganoush, and Al-Zarb – Jordan for Food Foodies
In the fireplace, logs crackle, and sparks fly around. Chicken and lamb, seasoned with various aromatic herbs, simmer in the underground oven, buried about a meter deep, as a hearty Al-Zarb feast unfolds. This meal is enjoyed in many places across the Arab world, including Jordan's Wadi Rum, where the name refers to both the oven and the recipe. And Al-Zarb is by no means the only specialty of the region; food enthusiasts will find plenty to savor in various Jordanian locales. Falafel, Hummus, Baba Ganoush (a puree of eggplants and sesame paste), and more are among the Arabic delicacies, elegantly served, for example, at Amman's legendary Hashem Restaurant, not far from the Roman Theater – even crowned heads have relished the freshly prepared dishes here.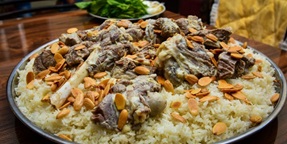 For those who want to delve deeper into the world of Arabic cuisine, you can also take a cooking class alongside locals, such as at Beit Sitti in Amman or Petra Kitchen near the UNESCO World Heritage site of Petra. During these classes, you're likely to prepare a traditional Mansaf – Jordan's national dish made from saffron-infused rice and lamb in a yogurt-like sauce. It's often served during religious celebrations and family gatherings and tastes simply delicious.
Fascinating by Day and by Night – The Rock City of Petra
Small horse-drawn carriages clatter through the narrow gorge known as the Siq, while pedestrians traverse the 1.3-kilometer-long and often only a few meters wide rock crevice framed by towering, reddish-brown-violet sandstone cliffs. At its end, nestled in a valley, awaits one of the most exquisite cultural highlights of the Orient.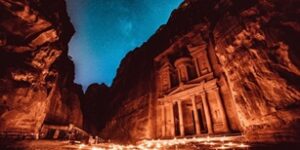 The intricately crafted facade of Al-Khazneh, also known as "the Treasury," once adorned the tomb of a Nabatean king. Along with the entire surrounding rock city, featuring temples, tombs, palaces, and cave dwellings, it is a UNESCO World Heritage Site and one of the "New Seven Wonders of the World." Approximately 800 relics from the time of the Nabateans are still preserved within this vast complex.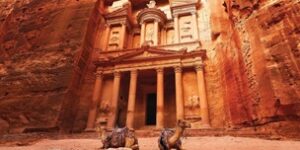 What is already overwhelming in daylight takes on an almost mystical quality in the darkness. Hundreds of white wax candles bathe the Siq entrance gorge in a mysterious light. Traditional Arabian music plays before the candlelit Treasury, accompanied by fresh mint tea – the entire experience feels like a tale from One Thousand and One Nights. The candles are lit every Monday, Wednesday, and Thursday.
Simply Dive In – Enjoy a Beach Vacation in Aqaba
Ready to take a break from exploring Petra or Amman, tired of the desert sands of Wadi Rum? Then Aqaba is the perfect alternative. Located at the southern tip of the country, this city of 80,000 residents serves as the center of Jordan's 26-kilometer-long coastline, in close proximity to neighboring countries Egypt, Israel, and Saudi Arabia. The compact bay area has a lot to offer, with beautiful beaches where locals often enjoy the crystal-clear waters of the Red Sea even in the winter, thanks to temperatures well above 20 degrees Celsius. You'll find numerous excellent beachfront hotels, and because Aqaba is a duty-free zone, perfumes, cigarettes, electronics, and even silver and gold are available without import duties.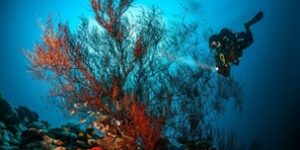 A special attraction is the seaside souk with over 50 local handicraft stalls and live music, ensuring a delightful shopping experience. Another source of enjoyment is a tour on one of the many glass-bottom boats available for rent at an affordable price. Without getting wet, travelers can enjoy up to 50 meters of underwater visibility, offering a glimpse of Aqaba's vibrant marine life. For those who want to get closer to whale sharks, dolphins, turtles, parrotfish, and moonfish, booking a diving excursion is an option, and the nearshore coral reefs also make for excellent snorkeling.
Greening the Greens – Jordan's Ecological Treasures
More than just desert, beach, and sea: Jordan's surprisingly green side. Jordan offers unexpected greenery with its seven natural and biosphere reserves, enticing travelers with lush valleys, gushing waterfalls, and tropical vegetation, making it an ideal year-round destination for relaxation. For example, the 38-degree warm springwater of Wadi Bin Hammad, near Karak close to the Dead Sea in western Jordan, transforms the area into a tropical oasis, perfect for unwinding. The same holds true for the Biosphere Reserve of Dana, located further south, which encompasses the country's four different biogeographical zones. So far, around 800 plant and 450 animal species have been documented here, including several threatened species like the Arabian wolf and the Saker falcon.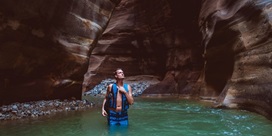 A unique gem is the Wadi Mujib Nature Reserve along the eastern coast of the Dead Sea, known as the lowest nature reserve in the world. Its spectacular canyons reach depths of up to 400 meters below sea level, while areas in the north and south sometimes rise to heights of 900 meters. The reserve is home to a rich flora and fauna, including ten predator species and numerous migratory birds. In this remote and hard-to-reach region, they all find secure protection and an ideal habitat.
Desert Palaces and Geocaching – A Thousand Paths to Culture
The historically rich Kingdom of Jordan is abundantly endowed with traces of ancient civilizations, and travelers here encounter cultural highlights at every turn. Foremost among them are, of course, the famous UNESCO World Heritage Sites and the grand, magnificent collections and museums in the capital city of Amman. But there are also numerous smaller remnants of a glorious past. Mention must be made of Jordan's Desert Castles, located south and east of Amman, which once served as caravan stops, refuges, and trading hubs. Given such diversity, it's worth considering booking a guided tour or having your own travel guide to ensure you don't miss any of the key attractions.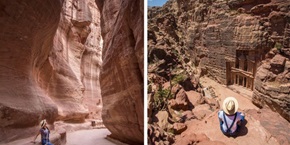 Another way to get closer to the country's highlights is through geocaching. In this electronic treasure hunt, caches are published online with geographic coordinates and can then be sought using a GPS receiver. In Jordan, there are over 40 geocaches, ranging from destinations in the sand dunes of Wadi Rum to finds in the bustling capital. One of the most beautiful is a cache in the rock city of Petra, which requires some perseverance to locate. However, afterwards, you can confidently consider yourself a connoisseur of UNESCO World Heritage.
A Unique Wellness Experience – Floating in the Dead Sea
Attention spa enthusiasts, this might become your new favorite wellness destination! In Jordan's Dead Sea, your body effortlessly floats on the surface, thanks to the water's salt content of up to 33 percent. This therapeutic experience is not only incredibly relaxing but also incredibly healthy, as the water contains 21 minerals like magnesium, sodium, potassium, and bromine. When combined with the mineral-rich mud from this inland sea, which sits more than 400 meters below sea level, the lowest point on Earth, it can help alleviate allergies, ease arthritis discomfort, and rejuvenate the skin. Major hotel chains offer comfortable accommodations, and the most beautiful sunsets are a complimentary bonus.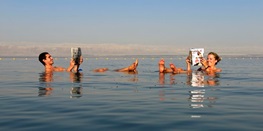 Furthermore, there are spectacular natural landscapes to explore in the surrounding areas, making it perfect for excursions. One notable destination is the hot springs of Ma'in, nestled in one of the world's most breathtaking desert oases. Thousands of visitors from near and far come here year-round to enjoy the mineral-rich waters of the waterfalls. They cascade down the rocky terrain and collect in natural thermal pools. Here, too, you'll find excellent hotels offering various spa treatments such as mudpacks, hydrotherapy showers, and underwater massages.
I highly recommend reading this article if you would like to delve deeper into the wonders of this remarkable country.